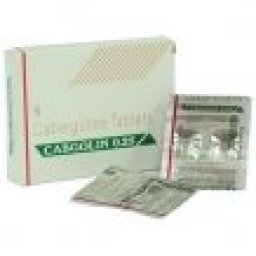 Sexual Health
Cabgolin
Manufacturer: Sun Pharma
Substance: Cabergoline
Pack: 20 tabs (0.5 mg/tab)
Cabgolin Detailed
Cabergoline (brand names Dostinex and Cabaser), an ergot-derivative, is a potent dopamine receptor agonist on D2-Receptors. It also acts on dopamine-receptors in lactophilic hypothalamus cells and causes thereby a suppression of the prolactin-production in pituitary gland.

Pharmacokinetics
Following an oral single dose the drug is resorbed within 0.5 to 4 hours from the GI-Tract with considerable interindividual differences. Meals do not alter the absorption characteristic. Human bioavailibility was not determined, because the drug is intended for oral use only. In mice and rats the absolute bioavailability was 30 and 63%, respectively. Cabergoline is rapidly and to a great extend metabolized in the liver and excreted in bile and far less in urine. All metabolites are less active than the parental drug or inactive. The human elimination halflife is estimated to be 63 to 68 hours in patients with M. Parkinson and 79 to 115 hours in patients with pituitary tumors.

Carcinogenity
In rodents a dose dependent increase in malignant tumors has been found. They are thought to be species-specific. No clinical data exists on carcinogenity in humans.

Off-Label/Recreational Uses
It has at times been used as an adjunct to SSRI antidepressants as there is some evidence that it counteracts certain side effects of those drugs such as reduced libido and anorgasmia. It also has been suggested online that it has a possible recreational use in reducing or eliminating the male refractory period.

Side effects
Approximately 200 patients with newly diagnostizised M. Parkinson participated in a clinical study regarding the monotherapy with cabergoline. Seventynine (79) % reported at least one side effect. These side effects were chiefly mild or moderate:

GI-Tract: Side effects were extremly frequent. Fiftythree Per Cent of patients reported side effects. Nausea (30%), obstipation (22%), and dry mouth (10%) were very frequent. Frequent were gastric irritation (7%), vomiting (5%), and dyspepsia (2%).

Psychiatric Disturbances and CNS: Altogether 51% of patients were affected. Very frequent were disturbances of sleep (somnolence 18%, insomnia 11%), vertigo (27%), and depression (13%). Frequent were dyskinesia (4%) and hallucinations (4%).

Cardiovascular: Approximately 30% of patients experienced side effects. Most frequent were hypotension (10%), peripheral edema (14%) and non-specific edema (2%). Arrhythmias were encountered in 4.8%, palpitations in 4.3%, and angina pectoris in 1.4%.

In a combination study with 2,000 patients also treated with levodopa the incidence and severity of side effects was comparable to monotherapy. Encountered side effects required a termination of cabergoline treatment in 15% of patients. Additional side effects were infrequent cases of hematological side effects, and an occasional increase in liver enzymes or serum creatinine without signs or symptoms.

As with other ergot-derivatives pleuritis, exsudative pleura disease, pleura fibrosis, lung fibrosis, and pericarditis are seen. These side effects are noted in less than 2% of patients. They require immediate termination of treatment. Clinical improvement and normalization of X-Ray findings are normally seen soon after cabergoline withdrawal.

The reported incidence and severity of side effects in hyperprolactinemic patients was comparable.
Cabgolin Reviews
Please log in to write Cabgolin review.