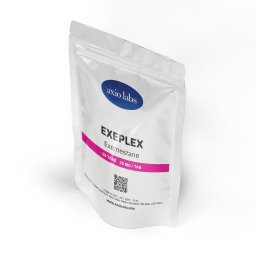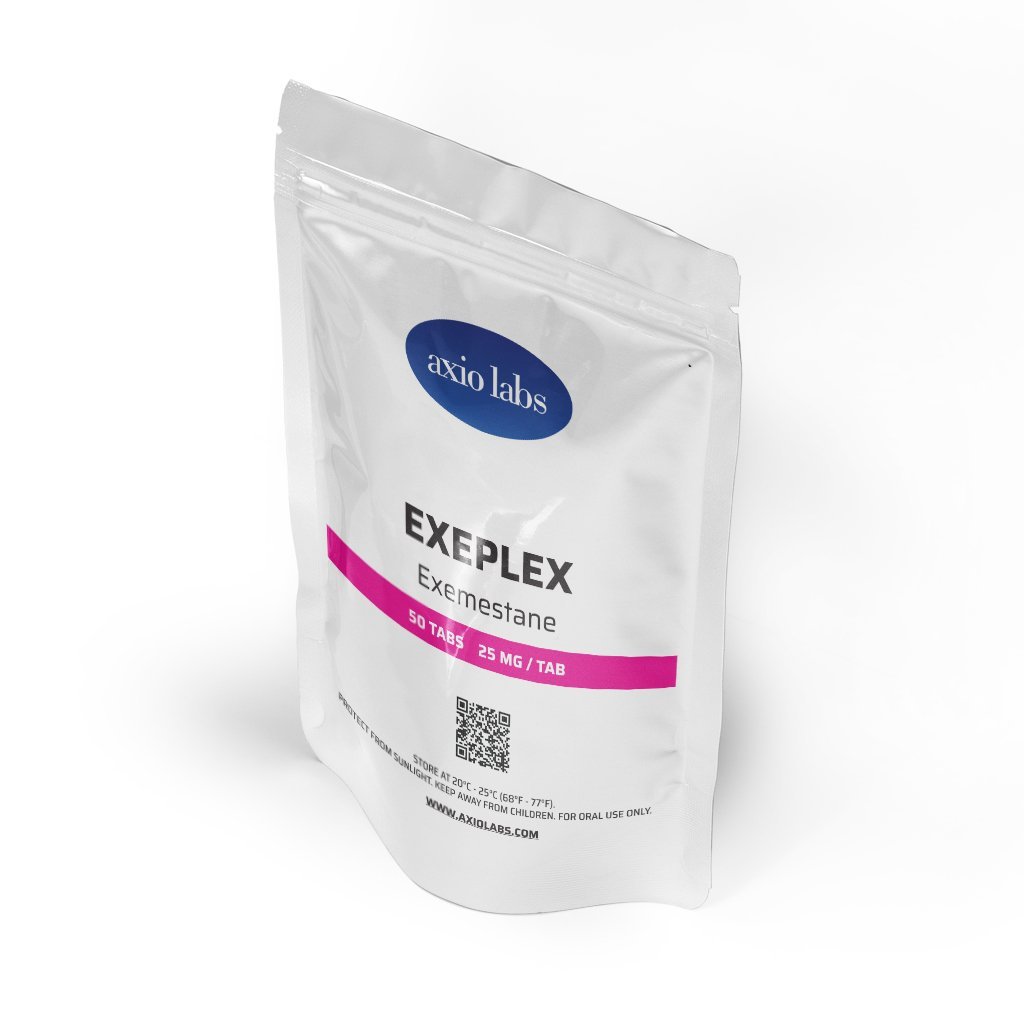 PCT - Post Cycle Therapy
Exeplex
Manufacturer: Axiolabs
Substance: Exemestane
Pack: 20 tabs (25 mg/tab)
Exeplex Detailed
Exemestane is an oral steroidal aromatase inhibitor (but also known uniquely as an aromatase inactivator) used in the adjuvant treatment of hormonally-responsive (also called hormone-receptor-positive, estrogen-responsive) breast cancer in postmenopausal women. An aim in the treatment of hormone-receptor-positive patients in preventing recurrence is to lower estrogen levels that this breast cancer thrives on.
The main source of estrogen is the ovaries in premenopausal women, while in post-menopausal women most of the body's estrogen is produced in the adrenal gland from the conversion of androgens into estrogen by the aromatase enzyme. Exemestane is an irreversible, steroidal aromatase inactivator, structurally related to the natural substrate androstenedione. It acts as a false substrate for the aromatase enzyme, and is processed to an intermediate that binds irreversibly to the active site of the enzyme causing its inactivation, an effect also known as "suicide inhibition." In other words, Exemestane, by being structurally similar to the target of the enzymes, permanently binds to those enzymes, thereby preventing them from ever completing their task of converting androgens into estrogens.
The estrogen suppression rate for exemestane varies from 85% for estradiol (E2) to 95% for estrone (E1).
Exemestane is indicated for the adjuvant treatment of postmenopausal women with estrogen-receptor positive early breast cancer who have received two to three years of tamoxifen and are switched to it for completion of a total of five consecutive years of adjuvant hormonal therapy.
Exemestane is indicated for the treatment of advanced breast cancer in postmenopausal women whose disease has progressed following tamoxifen therapy.
Please log in to write Exeplex review.