Steroids Tags
anabolic steroids
Buy Steroids
injectable steroids
steroids side effect
steroids for sale
bodybuilding steroids
Kalpa Pharmaceuticals
winstrol
sustanon
dragon pharma
british dragon
sciroxx
muscle builder
bodybuilding
buy hgh
growth hormone
human grow hormone
hgh
oral steroids
balkan pharmaceutics
deca durabolin
steroids
human growth hormone
growth hormone for sale
buy jintropin
buy steroids
Oxandroxyl (Anavar)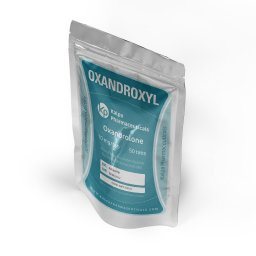 Oxandroxyl
Manufacturer: Kalpa Pharmaceuticals LTD, India
Substance: Oxandrolone
Pack: 50 tablets (10mg/tab)
70.00 USD
Buy 5+ for 52.25 USD and save 13.75 USD
Oxandroxyl (Oxandrolone)
, also known as
Anavar
, is an androgenic anabolic steroid used by many athletes to gain weight. It also promotes buildup of protein, treats catabolic tissue processes and increases red cells mass and hemoglobin. Oxandroxyl is also famous in the pharmaceutical sphere as it helps treating patients suffering osteoporosis and high cholesterol problems. This steroid is described as a mild anabolic that possesses low androgenic activity - it doesn't aromatize thus it can be safely used as a growth stimulant (especially in children).
Oxandroxyl
can be safely administered by female athletes as it doesn't cause virilization (rarely light symptoms were observed).
Bodybuilders and power lifters like this steroid because it offers good advantages over side effects, like: Oxandroxyl is a non-aromatizing steroid thus cannot aromatize to estrogen, it stimulates muscle growth and strong strength gains by phosphocreatine synthesis in the muscle cells without retaining water in the joints. Also, Oxandroxyl doesn't influence over the body's own testosterone production even in high dosages.
If an athlete wants to gain more strength and muscle mass, he can opt for non-aromatizing androgens like
Haloxyl
/
Trenboxyl Enanthate
/ or
Proviroxyl
for faster and better results. Oxandroxyl is also known for its fat burning qualities best used for ten to twelve week cycles. This drug perfectly promotes strength gain and fat loss, relieves bone pain and best stacks with
Boldaxyl 300
,
Stanoxyl Depot
,
Primoxyl 100
and
HGH
.
Oxandroxyl is well-tolerated in the body that's why side effects are rarely observed. Generally, in theory most often side effects that can occur are: acne, oily skin, insomnia, excitation, anorexia, gynecomastia, menstrual irregularities, libido changes and of course it can be toxic to the liver as it is an oral steroid. Also, this steroid is contraindicated to breastfeeding or pregnant women and men who suffer prostate/breast cancer. Oxandroxyl's side effects are minimum that's why many athletes use it for prolonged time.
Because Oxandroxyl offers minimum side effects, yet shows fast and nice results in gaining muscle mass and strength, it became very popular among bodybuilders. To obtain these results and few side effects one should administer it properly. The daily dose of oral Oxandroxyl for men will be 8 to 10 tablets per day and 5 to 6 tablets for women to achieve visible results. This steroid (tablets or injections) should be stored at a room temperature of 25°C (77°F) to keep its shelf life and effectiveness.
Reviews
Please log in to write review
Related Offers
Help Online
Currency
Articles
Buy Anabolic Steroids With Bitcoins | Xroids

Nowadays, Bitcoins is considered to be the most secure payment method because it protects the identity of both the seller and the buyer. BitCoins refers to a digital currency that offers the possibility to convert money into BitCoins.

Fistic Medicine: The Benefit & Cost of Steroids

For physicians Ewald's work has borne little fruit: The use of anabolic hormones like HGH and steroids in the treatment of burns, aging and neuromuscular disease is quite limited. For elite athletes and their trainers, however, Ewald's research on anabolic steroids and performance is the Magna Carta of doping.

Ken Shamrock: Yes, I used steroids

The allegations about the World's Most Dangerous Man proved to be true. After years of dismissing accusations -- not to mention a positive test result last year -- one of the Ultimate Fighting Championship's first Hall of Famers finally came clean about his steroid use as a mixed martial artist.